Theme song(s): "Runaway" by

Hail The Villain

Information:

Promotion: WWE
Date: November 21, 2010
City: Miami, Florida




Pay-per-view Chronology: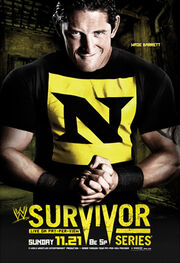 No.
Matches
Stipulations
Times
1
Team Kane (Kane, Alberto Del Rio, The Miz, Dolph Ziggler and Tyler Reks) defeated Team Cena (John Cena, Chris Jericho, Daniel Bryan, Batista and Shawn Michaels)
Traditional Survivor Series Tag Team match
20:55
2
Candice Michelle w/ Eve defeated Alicia Fox
Singles match
07:08
3
Team Andersen (Andersen, Randy Orton, Alex Shelley, Chris Sabin and Rey Mysterio) defeated Team Nexus (Husky Harris, Justin Gabriel, Heath Slater, Wade Barrett and Michael McGillicutty)
Traditional Survivor Series Tag Team match
30:52
4
Christian (c) defeated The Rock
Singles match for the WWE Championship with Edge as Special Guest Referee
17:42
5
Team Kharma (Kharma, Melina, Maryse, Mickie James and Kelly Kelly) defeated Team McCool (Michelle McCool, Layla, Natalya, Beth Phoenix and Gail Kim)
Traditional Survivor Series Tag Team match
18:30
6
Sheamus defeated CM Punk (c) and The Undertaker
Triple Threat match for the World Heavyweight Championship
21:15
(c) – refers to the champion(s) heading into the match
(Team Kane vs. Team Cena):Edit
Elimination
Wrestler
Team
Eliminated by
Time
1
The Miz
Team Kane
John Cena 
09:18
2
Alberto Del Rio
Team Kane
Chris Jericho
10:30
3
Daniel Brayn
Team Cena
Dolph Ziggler
13:44
4
Chris Jericho
Team Cena
Kane
15:59
5
Batista
Team Cena
Kane
16:48
6
Tyler Reks
Team Kane
Shawn Michaels
17:21
7
Shawn Michaels
Team Cena
Kane
19:02
8
John Cena
Team Cena
Kane
20:55
Survivor(s): Kane and Dolph Ziggler (Team Kane)
(Team Andersen vs. Team Nexus):Edit
Elimination
Wrestler
Team
Eliminated by
Time
1
Husky Harris
Team Nexus
Rey Mysterio
19:18
2
Heath Slater
Team Nexus
Alex Shelley
22:45
3
Rey Mysterio
Team Andersen
Justin Gabriel
22:59
4
Chris Sabin
Team Andersen
Wade Barrett
25:25
5
Alex Shelley
Team Andersen
Justin Gabriel
26:40
6
Michael McGillicutty
Team Nexus
Andersen
27:25
7
Justin Gabriel
Team Nexus
Randy Orton
28:20
8
Wade Barrett
Team Nexus
Andersen
30:52
Survivor(s): Andersen and Randy Orton (Team Andersen)
(Team Kharma vs. Team McCool)Edit
Elimination
Wrestler
Team
Eliminated by
Time
1
Kelly Kelly
Team Kharma
Gail Kim
03:32
2
Gail Kim
Team McCool
Kharma
07:10
3
Natalya
Team McCool
Maryse
11:22
4
Beth Phoenix 
Team McCool
Melina
11:48
5
Maryse
Team Kharma
Layla
12:55
6
Layla
Team McCool
Kharma
18:00
7
Michelle McCool
Team McCool
Kharma
18:30
Survivor(s): Melina, Mickie James and Kharma (Team Kharma)
Ad blocker interference detected!
Wikia is a free-to-use site that makes money from advertising. We have a modified experience for viewers using ad blockers

Wikia is not accessible if you've made further modifications. Remove the custom ad blocker rule(s) and the page will load as expected.