Summer Rae:
Height: 5'10"Edit
From: Raleigh, N.C.Edit
Career Highlights: Divas Champion (1x), GM of the Divas DivisionEdit
Bio: They say behind every great man is a great woman. Clearly, Summer Rae took that old saying to heart, because nearly every up-and-coming villain seems to have this devious Superstar hanging on their arm and whispering in their ear at equal measure.Edit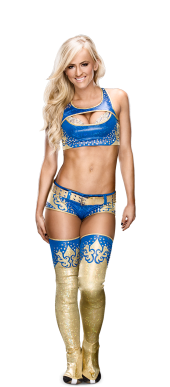 The gorgeous Diva even became the GM of the Divas Division for eight months and showed leadership and "my hand" strategies that would eventually lead to a Divas Title reign and dominance over the Divas Division until Charlotte, Becky Lynch and Sasha Banks began their climb to the top. Summer knows how to deal a good hand and make a bad situation, an even better one, but sometimes greed overpasses intelligence.Edit
So, if you're looking for a Superstar to start a revolution, look no further than the perky blond with the blinding smile and golden hair. Just make sure you bring sunscreen, because this Summer stings.Edit
Ad blocker interference detected!
Wikia is a free-to-use site that makes money from advertising. We have a modified experience for viewers using ad blockers

Wikia is not accessible if you've made further modifications. Remove the custom ad blocker rule(s) and the page will load as expected.