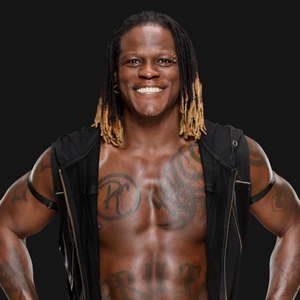 R-Truth:
Height: 6'2"Edit
Weight: 220 lbs.Edit
From: Charlotte, N.C.Edit
Signature Move: Lie DetectorEdit
Career Highlights: WWE Tag Team Champion (1x), Hardcore Champion (2x), TNA World Tag Team Champion (1x), Bragging Rights Throphy (2009), Slammy Award for Shocker of the Year (2011), Slammy Award for Best Musical Performance (2008), Slammy Award for "LOL" Moment of the Year (2015)Edit
Bio: The truth is this: WWE would probably not be nearly as entertaining without R-Truth in it.

Edit
The kookiest dude outside of a padded cell, WWE's resident rapping Superstar has stuck and moved his way throughout sports-entertainment for the better part of two decades, making his mark on some of the most memorable moments in WWE history. Just when you think Truth has faded into the sunset, he comes back, and he comes back strong.Edit
He was rowdy for a hot minute as K-Kwik during the Attitude Era. Then, after a WWE sabbatical, he came back stronger than ever as R-Truth. Then, when it seemed like he had his moment in the spotlight, Truth turned into a full-on maniac, ranting and raving against his invisible tormentor Little Jimmy and coming a hair away from a WWE World Heavyweight Championship. Then, Little Jimmy went away … only Truth came back again, winning a Tag Team Title with Kofi Kingston and, heisting the Intercontinental Championship to set up a Ladder Match scramble at WrestleMania 31. Then, he attempted to steal the King of the Ring throne from Bad News Barrett. Then …Edit
OK, you get the idea. Point is, you can never count R-Truth out. He'll always come back, you'll never expect it, and you'll certainly be glad that he did. Now that's what's up.Edit
Ad blocker interference detected!
Wikia is a free-to-use site that makes money from advertising. We have a modified experience for viewers using ad blockers

Wikia is not accessible if you've made further modifications. Remove the custom ad blocker rule(s) and the page will load as expected.