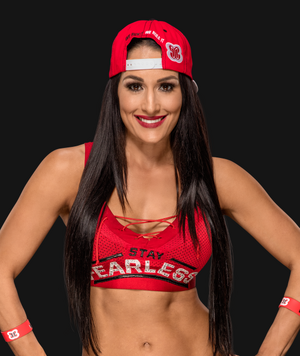 Nikki Bella:
Height: 5'6"
From: San Diego, California
Career Highlights: Divas Champion (2x), "Total Divas" star 
Bio: If there's a barrier to be broken or an accolade to be earned, Nikki Bella has done it, and done it with style.
A self-admitted "tomboy" with a feminine side, Nikki originally planned to play professional soccer until a leg injury ended her career. From there, she followed her twin sister Brie's lead into WWE. Unsuccessful in seizing spots in the 2006 WWE Raw Diva Search, The Bellas caught the eyes of execs and soon landed in FCW. Training for the competition they'd soon crush (while male WWE fans formed crushes on them), Nikki and her sibling made their way onto the main roster in 2008 and turned heads whenever they set foot inside the ring.
But don't be fooled — Nikki is more than just a (really) pretty face. With a dash of "Twin Magic," Nikki and her sister stirred up WWE, culminating with a Divas Title reign apiece in 2010. But after a brief sabbatical from WWE, the sisters began an astonishing reinvention, with Nikki cementing herself as the division's mean-girl powerhouse and earning a Divas Title reign that lasted 135 days.
So go ahead. Underestimate her because she's a woman. Or a twin. Or a reality show star. Write her off if you must, but do so at your own peril, because when it comes to separating the contenders from the pretenders, rest assured Nikki Bella is the real deal.