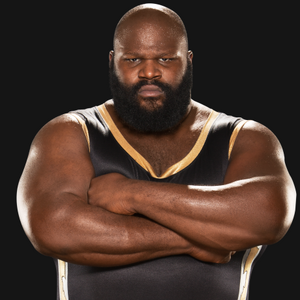 Mark Henry:
Height: 6'4"Edit
Weight: 399 lbs.Edit
From: Silsbee, TexasEdit
Signature Move: World's Strongest SlamEdit
Career Highlights: ECW Champion (1x), European Champion (1x), Hardcore Champion (1x), Slammy Award for Feat of Strength of the Year (2013), Slammy Award for Match of the Year (2014)Edit
Bio: Imagine every bone in your body being crushed into sawdust while you struggle to take a breath. Either you're about to become python food, or you're on the business end of Mark Henry's World's Strongest Slam.Edit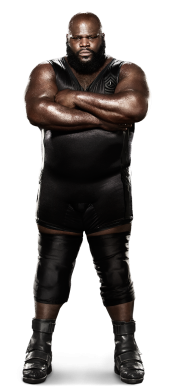 Henry burst onto the scene at the 1992 Summer Olympics in Barcelona, where he competed in weightlifting in the super-heavyweight division. Three years later, at the Pan American Games, Henry captured a gold, silver and bronze medal. Henry's intimidating size and weightlifting prowess earned the attention of WWE, which signed him in 1996. From there, the new Superstar joined the infamous Nation of Domination, where he established himself as a ruthless and powerful big man — traits he channeled to earn first prize in the 2002 "World's Strongest Man" competition at the Arnold Schwarzenegger Classic. Hence, the moniker he carries today, 20 years after debuting in WWE, where Mark Henry stands at a terrifying peak.Edit
Injuries can't stop him, and neither can Superstars such as Shawn Michaels, The Undertaker, Kane and Big Show — all of whom have been scraped from his boots at some point in his career. Destruction isn't personal for him; that's just what he does.Edit
With a wealth of experience, the steady concentration of an ER surgeon, and the temper of Bruce Banner, the scariest thing about Mark Henry isn't the fact he's The World's Strongest Man — it's the fact that he knows exactly how to use his unparalleled strength. Edit
Ad blocker interference detected!
Wikia is a free-to-use site that makes money from advertising. We have a modified experience for viewers using ad blockers

Wikia is not accessible if you've made further modifications. Remove the custom ad blocker rule(s) and the page will load as expected.