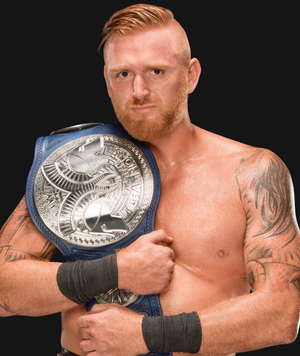 Heath Slater:
Height: 6'2"Edit
Weight: 216 lbs.Edit
From: Pineville, West VirginiaEdit
Career Highlights: WWE Tag Team Champion (2x), SmackDown Tag Team Champion (1x), World Tag Team Champion (1x), FCW Florida Heavyweight Champion (1x), FCW Florida Tag Team Champion (1x), FCW Southern Heavyweight Champion (1x)Edit
Bio: Fueled by a mouth that never stops running and arrogance as scorching as the shock of red hair on his head, Heath Slater certainly lives up to his self-imposed moniker, "The One-Man Band."Edit
Hailing from West Virginia, Slater first exploded onto the WWE scene as a Rookie on WWE NXT's inaugural season. Right out of the gate, Slater made an impact becoming the first-ever NXT Rookie to defeat a WWE Pro in a singles match. From there, he joined The Nexus in its hostile takeover of WWE and, like all good rockers before him, refused to stay painted into a single corner.Edit
Instead, Slater went where the music took him, baby, collaborating with the likes of 3MB and Titus O'Neil to stay a steady presence in WWE's tag team division, while also making it a point to take on any Legends that came across his path. He also helped form The Social Outcasts, a dangerous group of four Superstars setting their sights on squared circle glory. WWE Universe: Slater is still rockin' out, and all it takes is just one hit.Edit
Ad blocker interference detected!
Wikia is a free-to-use site that makes money from advertising. We have a modified experience for viewers using ad blockers

Wikia is not accessible if you've made further modifications. Remove the custom ad blocker rule(s) and the page will load as expected.