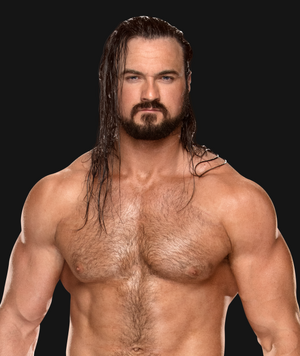 Drew Mcintyre:
Height: 6'5"
Weight: 265 lbs.
From: Ayr, Scotland
Signature Move: Claymore Kick
Career Highlights: NXT Champion (1x), Intercontinental Champion (1x), WWE Tag Team Champion (1x), World Tag Team Champion (1x)
Other Promotion(s) Career Highlights: TNA World Heavyweight Champion (1x), TNA Grand Champion (1x), FCW Florida Heavyweight Championship (1x), FCW Florida Tag Team Championship (2x), Global Impact Tournament (2015), TNA Joker's Wild (2016)
Bio: While many fellow 15-year-olds were worried about sitting at the "popular table" at lunchtime, Drew McIntyre was already training to become a WWE Superstar. He didn't have to wait terribly long to achieve his dream, either, as the endlessly athletic Scotsman skyrocketed from the U.K. independent scene to the big show, WWE, at just age 22.

The outlook was so bright for the 6-foot-5 McIntyre that when he first arrived, Mr. McMahon labeled him a "future World Champion." The Chairman was eventually proven correct, though fulfilling that prophecy did not come easily for McIntyre. He enjoyed plenty of success early on, capturing an Intercontinental Championship and a WWE Tag Team Championship with Cody Rhodes. Later, he rocked out alongside Jinder Mahal and Heath Slater as the memorable faction 3MB. But in 2014, after becoming, by his own admission, complacent, McIntyre was released from his WWE contract.
The release turned out to be a blessing in disguise. Instead of licking his wounds over losing his dream job, McIntyre set out on a worldwide wrestling odyssey. During his global trek, he transformed into one of sports-entertainment's most in-demand players, and he returned to WWE three years later — stronger, hungrier and decidedly more grizzled than when he left.
Despite receiving offers from both Raw and SmackDown LIVE, McIntyre chose to sign with NXT, stating that he wanted to compete on the world's toughest roster. He clubbed his way through every Superstar thrown his way and won the NXT Title from Bobby Roode at TakeOver: Brooklyn III in August 2017, finally earning the World Championship that Mr. McMahon had predicted nearly a decade earlier.
Loving nothing more than to mix it up in a brawl, McIntyre looks right at home in between the yellow ropes, and the NXT Universe is all too happy to have him. When the big Scot enters the ring, the fight's on.