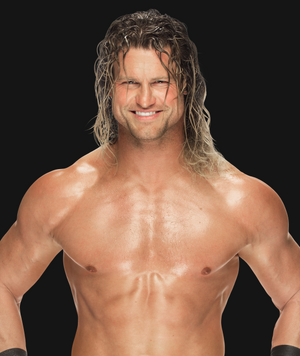 Dolph Ziggler:
Height: 6'0"Edit
Weight: 218 lbs.Edit
From: Hollywood, Fla.Edit
Signature Move: Zig ZagEdit
Career Highlights:  WWE Champion (1x), WWE Television Champion (1x), United States Champion (3x), Intercontinental Champion (4x), Hardcore Champion (3x), World Tag Team Champion (1x), WWE Tag Team Champion (1x), FCW Florida Tag Team Champion (2x), Bragging Rights Trophy (2010), Raw's Mr. Money in the Bank (2012)Edit
Slammy Awards: Slammy Award for Tag Team of the Year (2011) with Jack Swagger, Slammy Award for Match of the Year (2014)Edit
​Bio: Can it be? Can it be that Dolph Ziggler really is that damn good, the best in the business and the man who steals the show every single night — and your girlfriend too?

Edit
You better believe it, brother.Edit
You'd think that a person like that would rub the WWE Universe the wrong way, right? Well, you'd be wrong. Despite his penchant for irony, Ziggler found himself squarely in the favor of the WWE Universe, who helped power him through the glass ceiling and into the championship picture, racking up WWE, Intercontinental and United States Championship reigns along the way, as well as two appearances as the Sole Survivor of a Traditional Survivor Series Elimination Match.Edit
Oh, and Ziggler also does stand-up comedy. It really is unfair. To the rest of us, at least. To him, it's no big deal.Edit
Ad blocker interference detected!
Wikia is a free-to-use site that makes money from advertising. We have a modified experience for viewers using ad blockers

Wikia is not accessible if you've made further modifications. Remove the custom ad blocker rule(s) and the page will load as expected.