Cody Rhodes: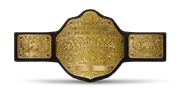 Height: 6'2"Edit
Weight: 220 lbs.Edit
From: Marietta, Ga.Edit
Signature Move: Cross RhodesEdit
Career Highlights: World Heavyweight Champion (4x), Intercontinental Champion (3x), United States Champion (1x), WWE Tag Team Champion (5x), World Tag Team Champion (4x), Slammy Award for Surprise of the Year (2016)Edit
Bio: Cody Rhodes "The American Nightmare." He is the son of WWE Hall of Famer Dusty Rhodes and the half-brother of fellow WWE wrestler Goldust. After anamateur wrestling career that resulted in becoming a two-time Georgia state champion, he followed his father and older brother's footsteps into the professional ranks and joined WWE. A prolific tag team wrestler, Rhodes has won six tag team championships (four World Tag Team Championships and five WWE Tag Team Championships) with four separate tag team partners.Edit
After becoming a Triple Crown Champion in Ohio Valley Wrestling (OVW), WWE's developmental territory at the time, he was elevated to the main roster, where he became a three-time Intercontinental Champion, two-time US Champion and three-time World Heavyweight Champion.Edit
Ad blocker interference detected!
Wikia is a free-to-use site that makes money from advertising. We have a modified experience for viewers using ad blockers

Wikia is not accessible if you've made further modifications. Remove the custom ad blocker rule(s) and the page will load as expected.